PIERCINGS
We also offer piercings. Body piercing is an ancient art of expressing status, royalty and individuality at its finest. And we have a private room in the shop to do piercings!
Esther and Dana are professional body piercers and floormanagers with years of experience.
– We do piercing only by needle, we don't use a gun. (Also the lobes.)
– Under 16 years:  parent or guardian must be present. Both need proof of ID.
– 16 – 18 years: All piercings (only NO nipples and genitals)
– 18 years and over: All piercings
– We cannot pierce you if you are pregnant or nursing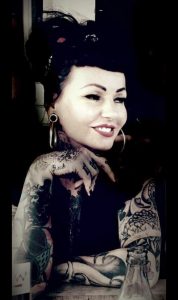 Esther is our friendly piercing professional.
She is Dutch and apart from working in Holland she has worked in Germany and Spain for 9 years.
Esther has over 20 years of experience, is creative and, obviously, makes sure her work is done hygienically.
Dana is also a Dutch piercer with 10 years experience.
She has a lot of patience and compassion for her clients.
And her hygiene and passion as a piercer can be seen in the shop.
You can also find her at the front desk to book and help the clients.